For the world's most innovative designers and architects, green is the new black. A home can be luxurious, historic, glamorous, commodious, even fun. But can it also be sustainably designed and eco-friendly green?
It can be all of these things, according to some of today's most innovative designers and builders. Earth-conscious does not have to mean "doing without." Quite the contrary: chic, even dazzlingly beautiful homes around the world are now sporting green roofs, drawing power from geothermal energy, and making use of solar panels year round. The technology we currently deem "eco-friendly" will probably be de rigueur in coming years.
Many companies that were founded decades or even a century ago to produce glass, ceramics, chemicals, and electronics are now riding the wave of green design. Here are just a few properties from trailblazing innovators who are making sustainable design the ultimate deluxe amenity.
1. Sustainable and Locally Sourced Materials
This eco-friendly practice is actually not at all new: before international shipping became commonplace, "locally sourced" was simply the method all builders used to construct houses as they chose from stone, wood, thatch, or local clay, depending on which resources were abundant in a particular region. To reduce the carbon footprint of today's construction practices, architects and contractors are seeking local solutions to new design challenges.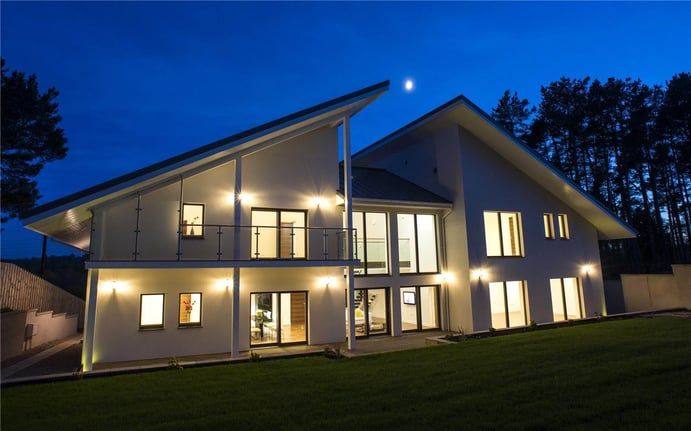 The first certified Passive house in Aberdeen, Scotland, Crombie House has been constructed in accordance with German Passivhaus building standards, the most stringent building regulation in the world.
2. LED Lighting
Electricity drastically transformed the nighttime look and feel of interiors by replacing the soft flicker of candlelight and gas lamps with the bright, on-demand illumination of incandescent bulbs. Lighting is experiencing a radical change once again thanks to advances in LED technology. LED bulbs are vastly more energy efficient than the filament bulbs of the 20th century, which means the carbon footprint of a home can be greatly reduced without switching off the lights. The Dutch multinational corporation Philips, founded in 1891 and now a global leader in LED lighting, even produces LED-powered luminous textiles called Kvadrat Soft Cells that can add an atmospheric glow to any interior without the need for a single fixture.
3. LEED Certification
In the industry, LEED certification has become a byword for eco-friendly construction practices. LEED (Leadership in Energy and Environmental Design) is a green building certification program from the U.S. Green Building Council that recognizes a project's efficiency standards. More than 150,000 homes around the world are LEED-certified, a number that more than doubled between 2011 and 2013 according to a recent report by the Council. This figure is expected to increase steadily in 2015 and beyond.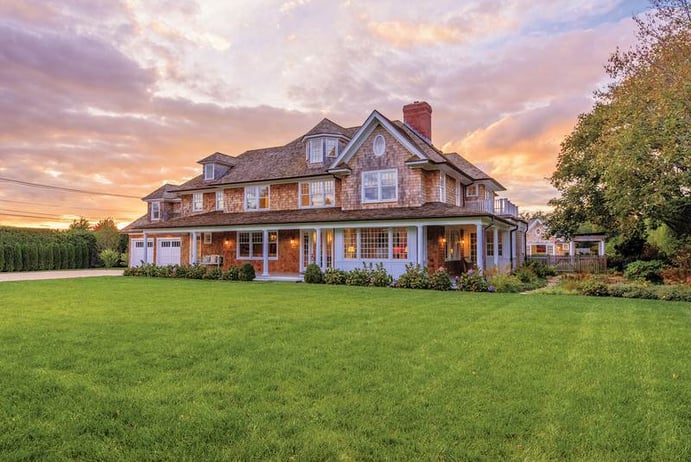 Moments from Mecox Bay and the Hamptons finest Atlantic Ocean beaches, this newly constructed traditional cedar-shingle home is LEED certified for eco-friendly living.
4. New Habitats for Sea Life
One of the most exciting trends in eco-friendly building isn't happening on land, but on the ocean, where innovative new projects are creating stable habitats human beings and for the sea life below. Coral, fish, anemones, and all manner of microscopic creatures can carve out a home using the base of each island, as though it were a natural rock formation. Christie's International Real Estate and its affiliate Dutch Docklands are making eco-luxury history with the announcement of Amillarah Private Islands, a new chain of man-made atolls designed by internationally renowned Dutch designer Koen Olthuis.
These high-end floating oases are beautiful, luxurious, and environmentally sustainable. The first Amillarah Islands will take shape in the Maldives, with additional clusters in Dubai in the works. Olthuis, one of the leading thinkers engaged with global climate issues and a member of the Flood Resilient Group, is inspired by centuries-old Dutch ingenuity in the management of water via everything from river dams to floating houseboats. Amillarah Private Islands has partnered with the Jean-Michel Cousteau's Ocean Futures Society to refine the process of creating artificial reefs.
A private island to call your very own may sound like a fantasy or a lifelong dream, but with Amillarah Private Islands it is a very real possibility.
5. Vegetable Gardens and Orchards
The fun and relaxation of tending a garden is a proven way to clear the mind and enjoy some fresh air and sunshine. And there's an added benefit: vegetable gardens are as good for the planet as they are for the gardener. With increasing interest in organic produce, home vegetable gardens have become a feature of luxury estates, where a scaled-down version of the "farm-to-table" concept can be brought right into the kitchen. Gardening promotes the cycle of growth and decomposition that maintains healthy soil, and growing plants produce oxygen—as well as the ingredients for a farm-fresh salad. With enough space, an avid gardener can tend a grove of citrus or apple trees or even produce wine from a small vineyard. Like vegetable gardens, orchards surround a home with fresh air and greenery, offer natural shade, and perfume the air with the subtle fragrances of fruit and flowers.
6. Green Roofs and Walls
The earliest "green roof" may have been the famous Hanging Gardens of Babylon, but it was not until the early 1970s in Germany that technology caught up with aesthetics and green roofs became a viable design option. Today, green roofs are so practical and effective that mainstream, design-focused authorities like HGTV are offering primers on how to install your own. Luxury homes have incorporated green roofs and balconies for a mix of efficient, natural cooling and landscaped, aesthetic beauty.
7. Solar Panels
Using the inexhaustible energy of the sun, solar rooftop panels provide a lightweight, inexpensive way to boost the "passive" energy of a home, storing power for future use without the need for any wasteful processes. Solar panels can be attractive, too. Sweden's SolTech Energy produces beautiful glass roof tiles that allow builders to create energy-efficient, solar-powered homes that draw design inspiration from a classic architectural style. Solar power is among the most exciting innovations in green design.
According to Tech Insider, a total of one million American homes are predicted to have solar panels by early 2016. On the U.S. Virgin Island of St. John, this tropical beachfront villa offers a thoughtful model for how to combine solar power with luxury resort living. Vida de Mar has been designed to take full advantage of the year-round Caribbean sunshine with its newly fitted 20kW solar-paneled roof. The property enjoys an idyllic setting amid lush vegetation with its own private beach overlooking the azure waters of Devers Bay. The five-bedroom, five-bathroom estate is offered in turnkey condition, making it ideal as a private compound or as a luxury vacation rental property.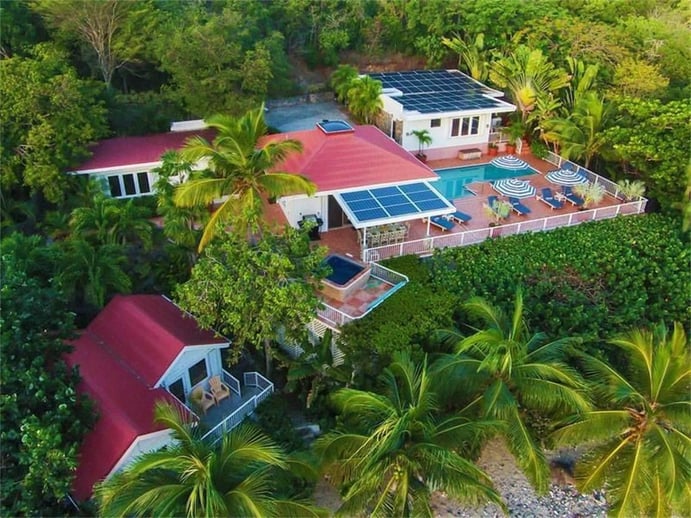 Vida de Mar on the Caribbean island of St. John, is the ultimate tropical eco retreat complete with a brand-new solar power system.
8. Smart Home Technology
Today's eco-friendly houses aren't just sustainable, they're very smart. From in-wall touch screens that control a home's light, heat, irrigation, sound, and more to all of the options that are now available connecting your home from your smart-phone, these technologies are perfect for those who split their time among several residences, allowing homeowners to program such features remotely so energy is not wasted when a home is empty, management is in the palm of one's hand when an investment property is being rented and all of the luxuries of home are at your beckon call when you and your family are there basking in the glory. Haven Smart Home Solutions is Colorado's top home automation and connected living specialty firm for those in the high country and beyond.

9. Geothermal Heating and Cooling
Like solar panels, geothermal heating and cooling elegantly harnesses the forces of nature to provide optimal indoor conditions at any time of year. This technology allows homeowners to make the most luxurious home's environmental footprint relatively small, even as its design makes a big aesthetic impact. Globally renowned design and construction sustainability firm Verdigris Group can assist you in facilitating the development of your new earth powered luxury retreat.

10. Private Eco Preserves
Green homes can incorporate more than eco-friendly construction and cutting-edge technology. For those searching for adventure as well as an environmentally conscious lifestyle, combined with all the comforts of home, a property located in a private eco preserve provides the perfect balance.
Whatever your desires are when it comes to sustainable living, Mountain Life Sustainability has the expertise, the contacts and the know-how to put you in the best hands to get the job done right, whatever the job might be.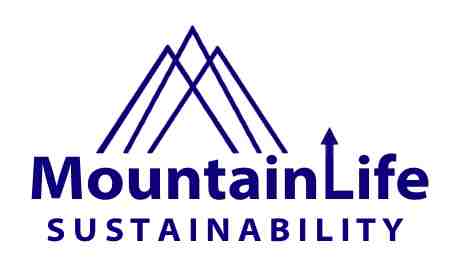 Contact us today with any of your questions - we're thrilled to be your concierge to the better life! Reach us at: 800 805 2830 or drop us a message at your convenience: info@MountainLifeCompanies.com

Colorado's Premier Home Services Providers | Smart Home Solutions, Sustainability Solutions and Real Estate Photography