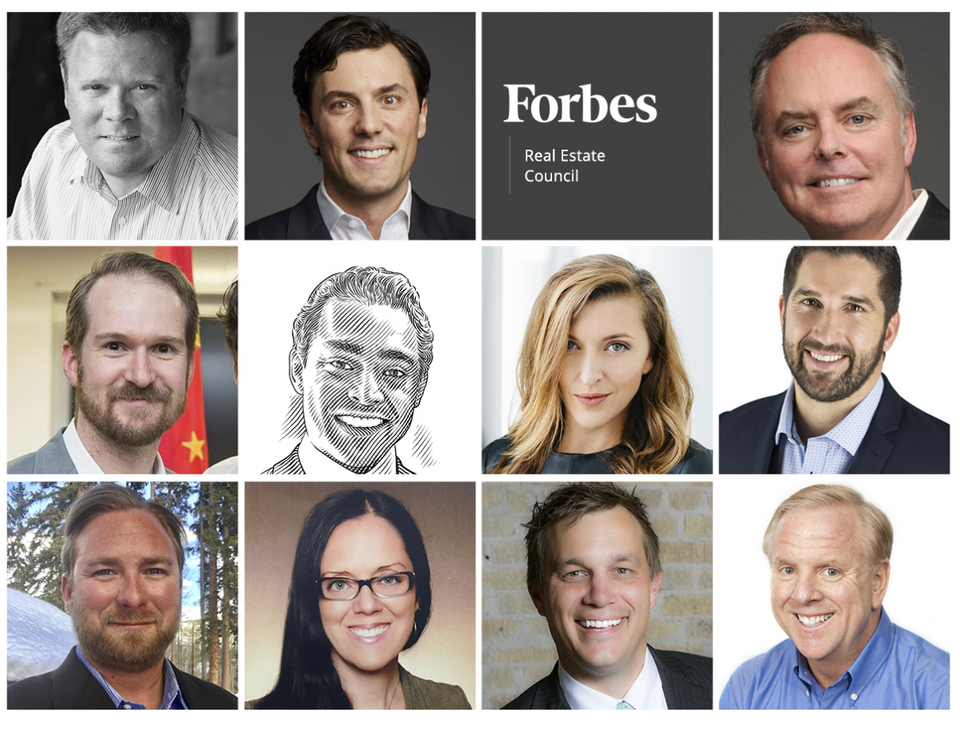 Read the Forbes article directly linked here:

11 Real Estate Pros Share The Technology Shifts That Have Changed The Way They Work

Technological developments in the last 10 to 20 years have impacted the business world in many ways, significantly altering the way nearly every industry operates. Even real estate has enjoyed numerous game-changing technologies, from online listing platforms to e-signature options.
It's easy to assume every advance has been a boon for real estate professionals — and most of them have been — but we all know that technology can sometimes be a double-edged sword. We asked a panel of Forbes Real Estate Council members to share the most impactful tech change in their career, and what it meant for the direction of their business and the industry overall. Their best answers are below.
1. Access To Data By Potential Investors
The answer to this question as it relates to real estate is simple — access to Information. The plethora of data services that are now available across all sectors of real estate has completely changed how educated the average investor has become. They can dig into market trends, sold comps, job growth numbers, etc. and make much better investment decisions due to more available data. - Sean Lyons, Triad Real Estate Partners, LLC
2. An Open, Interconnected Tech Ecosystem
There is a confluence of changes that are amounting to a paradigm shift. Traditional systems are not only migrating en masse from analog to digital, but they're also transforming from closed and siloed to open and connected. Clunky, hard-to-use enterprise systems are being replaced by systems that resemble an App Store where technologies are deeply specialized, interconnected and user-friendly. - Christopher Kelly, Convene
3. Online Marketing And Advertising
Online marketing and advertising continue to evolve as content providers create new — sometimes innovative, frequently disruptive — ways to monetize real estate data. While the web has greatly expanded property and agent exposure, content providers frequently do the public a great disservice with misinformation, misleading statistics and pay-to-play agent marketing. - Thomas McCormack, Resources Real Estate
4. Google Maps
If Google Maps ceased to exist tomorrow, most of the current technology platforms that the real estate industry relies on would not be possible. - Colin Bogar, Property Passbook
5. Peer-To-Peer Crowdfunding
In the older world of real estate, you'd have to put an asset under contract, go bucket-in-hand to family and friends or institutions before getting deals funded. Now you can generally solicit under the 506(c) exemption, and crowdfund your equity and debt stack online and avoid using institutions. This is an incredible equalizer for the investor who otherwise wouldn't see their deals. - Ridaa Murad, BREAKFORM | RE
6. Online Inventory Listing Platforms
Now that so many websites allow the general public access to the MLS listings, the role of the real estate agent has become less about finding properties, and more about negotiation, competence and ability to achieve acceptance. We must instill in buyers now more than ever that finding the right property is just the beginning of the process, and going it alone is costly. - Courtney Poulos, ACME RealEstate
7. Electronic Signatures
Not having to print out countless pieces of paper for our real estate contracts has saved trees, gas and time. With that saved time comes freedom to travel, so you can be cruising around the world and as long as you have an internet connection you can firm up your sale. This has also revolutionized the game for real estate agents as deals can be done faster and more efficiently. - Chris Ryan, BEYOND Properties Group
8. The Tokenization Of Real Estate
One of the investment verticals most frequently mentioned as having the greatest potential has been the tokenization of real estate, especially now that the SEC and FINRA are allowing $2-3 billion of global real estate assets to join the tokenization market. This technological and cultural revolution is bringing forth new enterprises that we're working on and this tide will be rising all boats. - Garratt Hasenstab, The Mountain Life Companies™
9. Virtual Tours
It's amazing: Now a buyer can view a home without ever leaving their home. They can even walk the streets! The ability for a buyer to preview in such vivid detail is such a time-saver for all involved. As this technology grows, it will be faster and easier for buyers, sellers and agents, allowing more focus on customer service than rushing around to view properties that do not meet buyers' needs. - Coni Dean, Venture Realty & Investments
10. Anywhere, Anytime Accessibility
The biggest change in the tech side of real estate is that partnering with top-tier service providers allows brokers and agents to operate our businesses from anywhere in the world. The downsides are that it is slowly eroding the human element from transactions that are highly personal in nature and new agents can miss a greater understanding of the ins and outs of contracts. - Justin Pistorius, Local Life Realty
11. Smart Devices
This tiny supercomputer in my pocket has changed everything. I can communicate with a client from anywhere; send a document to sign back and forth; post or change a listing; create an ad campaign; promote on social media; shoot, edit and post a video; forward a doc to escrow or title; send and receive money; and get directions to a house. I don't need an office, but don't touch my iPhone. - Kevin Hawkins, WAV Group, Inc.